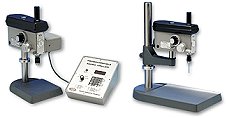 Servo Drill Presses with high-reliability, deliver maximum performance for single-hole drilling applications where precision production jobs are common tasks. Applications include automobile, computer, electronic and medical devices, musical instruments, jewelry, EDM and molded parts, as well as for laboratory and engineering department applications.
Servo Drill Presses drill holes in the range of 0.004" to 3/16" (0.1 mm to 4.7 mm) and are available with a choice of keyless, Albrecht chuck or WW collets, as well as inch or metric gauges. Adjustable spindle-speeds from 200 to 20,000 RPM ensure smooth cutting operations through even tough materials, such as carbon steel, stainless steel, nonferrous metals, plastics, graphite, printed circuit boards, plus diamond drilling in ceramics, sapphire and glass.
Scrapped parts and drill breakage are minimized with a sensitive rack and pinion drive system that enables the operator to feel the cutting forces. The drill presses feature smooth and quiet operation by placing belt tension on separate carrier ball bearings in the spindle-drive assembly, not on the spindle bearings. A high-strength mechanism with precision balanced rotating parts drives the spindle.
A fully adjustable quill lever makes precision pecking operations easy. Plus an adjustable and calibrated quill stop also can be utilized as an up or down stop, which enables the quill to be locked in a fully extended up or down position. Also, the quill stop can be used as a fine down feed or as a continuously adjustable down stop for controlled incremental pecking, which makes deep hole drilling easier.
An optional microprocessor-controlled quill feed for peck and reaming cycles optimizes production, as well as minimizes tool wear and breakage with controlled feed rates of up to 30 IPM. The quill feed delivers accurate hole depths within ± 0.001", while automatic pecking action clears chips, reduces drill wander and enables small-diameter deep holes to be drilled accurately. Hand-free operation with an optional foot switch is available. The quill feed features Auto, Single-Step, Ream and Program modes.
Auto mode includes a pecking sequence that begins with a rapid plunge to a programmable distance above the previous cut, controlled feed to a new depth, followed by a rapid retraction to a programmable distance above the work surface and selectable dwell time that allows chips to be cleared. The Single-Step mode allows the program to be checked one peck at a time. The Ream mode controls feed rates during both the plunge and retract strokes. And the Program mode enables the operator to set quill sequence control values.
Other options include a drill-tap control unit that eliminates separate tapping attachments and a mill-head adapter kit that attaches and locks the drill press head in the R8 taper of a Bridgeport-type quill and operates as single unit with a rigid XY table.